Hunt and Hunt Ltd
Safety.
Quality.
Excellence.
Hunt and Hunt Ltd. is a precision machine shop and high-volume manufacturer situated at the heart of the energy and aerospace industries.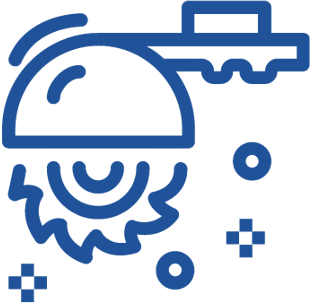 A Texas-Sized Precision Machine Shop with Industrial Robotics.
Machine learning is accelerating industry faster than ever. Can your business compete?
Our company uses industrial robotics to manufacture many thousands of parts every month across diverse industry sectors. Our 25 robotic cells work 24 hours a day, ensuring incredible precision, tight part variances, and unparalleled volume. From automotive to aerospace, we offer high-volume automated manufacturing to keep your supply chains running ahead of the curve.
Automated precision
manufacturing
Our 104,000-square-foot complex contains more than 30 different CNC, laser, and multitasking machines to achieve the highest levels of efficiency and flexibility in machine manufacturing. As an early adopter of industrial robotics, Hunt and Hunt Ltd ensures consistent quality across tens of thousands of parts, including rigorous, round-the-clock process controls to ensure every part meets your unique specifications.
Our state-of-the-art precision manufacturing meets accelerating industrial technology needs today, mitigating risk and ensuring:
Consistent quality across thousands of parts
Low rejection rates and tight variances
Real-time quality control
Less disruption from human error
High-volume capability at accelerated rates
A one-stop
machine shop
Hunt and Hunt Ltd provides a turnkey experience so customers from any industry can enjoy the same efficiencies and high-volume production as our oil and gas partners have since 1954. As global markets demand greater supply chain precision and faster delivery, having a single source for manufacturing needs is business-critical.
Together, our fleet of industrial robotic cells, large warehouse capacity, and experienced team members offer: 
Sourcing and purchasing of raw materials
Manufacturing
Warehousing
Worldwide distribution
Explore
Hunt & Hunt's Facilities
Our team has custom designed and built seven rotary laser machining centers that are built to rapidly cut intricate profiles within both tubular and flat stock. The advantages of laser machining are quite prevalent, including:

Minimize the need for secondary processes (i.e. deburring)


Effective working with thin-walled stock

Our multifunction mill-turn centers have kept us on the cutting edge of extreme machining. This multi-axis equipment allows us to machine even complex parts all in one process. It streamlines the process, making it quicker and requiring less manpower. It is one of the reasons Hunt & Hunt is able to produce perforating gun parts at such a high output.
Contact Us
Submit your queries here and we will get back to you as soon as possible.
Get In Touch with
Hunt & Hunt Today
Thank you for considering Hunt & Hunt for your multi-task volume manufacturing needs. Contact us to learn more about our capabilities as leaders in perforating gun production and multi-task volume manufacturing.